Department of Family and Community Resource Management:
The department of Family and Community Resource Management, formerly known as Home Management, is one of the pioneers in India offering specialization at undergraduate, post graduate and doctorate level. The department launched a specialization programme, leading to B.Sc. degree in the academic year 1953-54. Master's degree programme was initiated in the year 1962-63. During the academic year 1978-79, the department launched its Doctorate degree programme. The Master's degree programme received a boost in the year 1992-93 by offering to areas of specialization namely: (i) Resource Management and Family Economics and (ii) Housing, Interiors and Household Equipment.
Special efforts were made to enhance the scope for academic development and commercial application hence the later was developed into a more focused specialization, and was reframed as "Interior Design" specialization. The need to create vocation based programme at Bachelor's level necessitated enhancement in professional skills and competencies amongst the students. In the year 2003-04 the department, thus, introduced two streams in its UG programme titled as (i) Interior Design and (ii) Hospitality Management.
A distinguished feature of the department is the "Home Management Residence House" that still exists as an academic asset since the inception of the department. The department received national recognition of the Government of India and was awarded the "Technical Backup Support Unit" under the Ministry of non-renewable energy sources, from 1986 to 2001.
In the year 2012, Honours Degree programme was started in the Faculty. The department also strengthened its courses for vocationalisation under the Honours degree program. In the year 2015-16, it has launched honours degree programme exclusively in "Interior Design". The department had initiated, managed and started a special Post Graduate Diploma in "Hotel Interiors" and certificate course in "Interior Decoration for Hotels" under the banner of Institute of Hotel Management and Catering Technology (HMCT) since the year 2014-15.

Mission of the Department
To develop students into wholesome personalities competent to assume their roles as adults in a dynamic society and join the mainstream of national development along with any other profession.
To create an environment of exclusive professional excellence which is conducive for learning and fostering a desire to experiment with new ideas in developing Human Capital among the students for wider Career opportunities, undertake collaborative projects for long term interaction with Academia, Industries,Government and Non-Government Organizations, reach the unreached through Extension activities for the welfare of the Community and to generate new knowledge by engaging in Research and Promoting Academic growth by offering various Educational Programs.

Vision of the Department
The Department works with the vision to be a distinguished center that fulfills the needs of Family, Community and Nation for enhancing quality and excellence in teaching, learning process through disseminating congruent education, taking up collaborative projects for strenghening Industry and Institute linkages, strengthening Extension work and Research to serve as a valuable resource for Industry and Community and develop competencies for professional practice in the field.
Enhancing quality and excellence in teaching-learning process.
Strengthening research.
Dissemination of relevant education.
Strengthening industry- institute linkages.

The Department of Family & Community Resource Management (Home Management) offers educational programmes leading to B.Sc. (Home), M.Sc. (Home), M.Phil and Ph.D. Degrees. The philosophy underlying the discipline that managing the home and its resources is a complex and challenging task and quality of life is dependent on mankind, gives direction to the courses offered under each programme of study. It is interdisciplinary in nature, building its curriculum by integrating theories and principles from basic sciences, arts, humanities and social sciences.
The Department strives to sensitize its students on issues related to management of resources not only at the household level but also at the community and national level. The major objectives of the Department of Resource Management are to clarify the meaning and scope of management in present day living, to emphasize resource potential in human beings to achieve personal, household, community and national goals, to promote consumerism and to enhance standard of living and quality of life through judicious management of personal, household and community resources. The department aims at developing students into wholesome personalities competent to assume their roles as adults in a dynamic society and join the mainstream of national development along with any other profession.
The programme offered at various levels have three basic components: academic, research and extension. Vocationalization is aimed at the U.G. and P.G. Programme through well planned curricula. The students undergo a structured programme of instruction in classrooms with ample opportunities for laboratory work and community outreach projects to develop various competences. The curriculum at each programme of study is reviewed, revised/modified and new courses designed and developed to strengthen and upgrade the programme as per the needs of the society and its students clientele.
To make the programme more vocation oriented two specializations are offered at under graduate level. They are (I) Interior Design and (II) Hospitality Management. At Masters level there are two specialization viz. (I) Family Economics and Resource Management and (II) Interior Design.

The thrust areas of the field are Resource Management, Consumer Studies, Housing and Interior design, Hospitality Management, Energy & Environment Studies, Household Equipment, Ergonomics, Human Resource Development and Entrepreneurship Development.
The department offers various Teaching learning experiences in achieving quality and excellence through conducting Seminars, Experiments, Field/site visits, Model making, Project work, Simulated field situation, Preparation of Working drawings, Educational tours, Participation in Conferences/Seminars/Workshops, Internships and placements.
One of the unique feature of the programme was the Residence Course under which students stay in Home Management House Which is a laboratory to apply theories and principles related to management of resources and group living. It aims at simulating a homelike situation for practical experience in day-to-day living. Students enrolled in Resource Management at the B.Sc. (Home) Degree programme stay in this laboratory along with students enrolled in the M.Sc.(Home) Degree programme in the department as their "Supervisor and manage the resources at their disposal along with their roles as students to attain both individual and group goals. The Staff Advisor constantly guides, supervises and evaluates students, performance in various roles, viz. Hostess, Finance manager, Cook, Housekeeper and so on.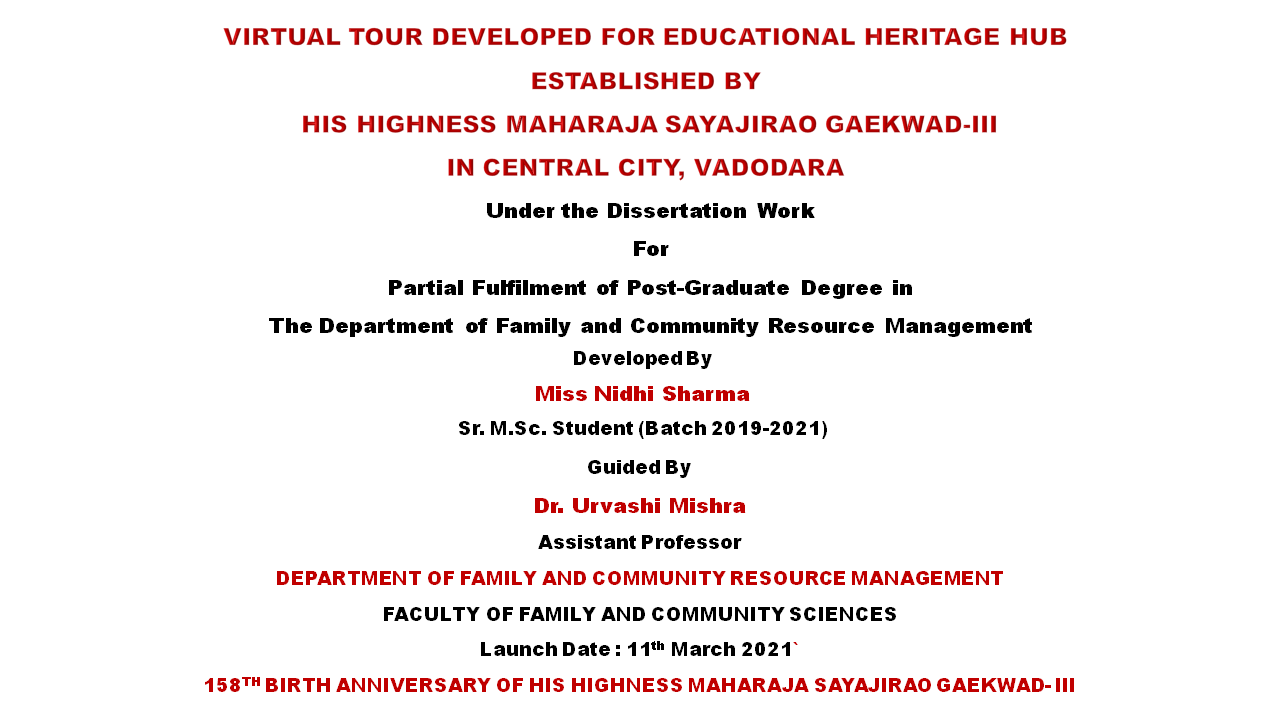 Revelations 2021-2022 Report