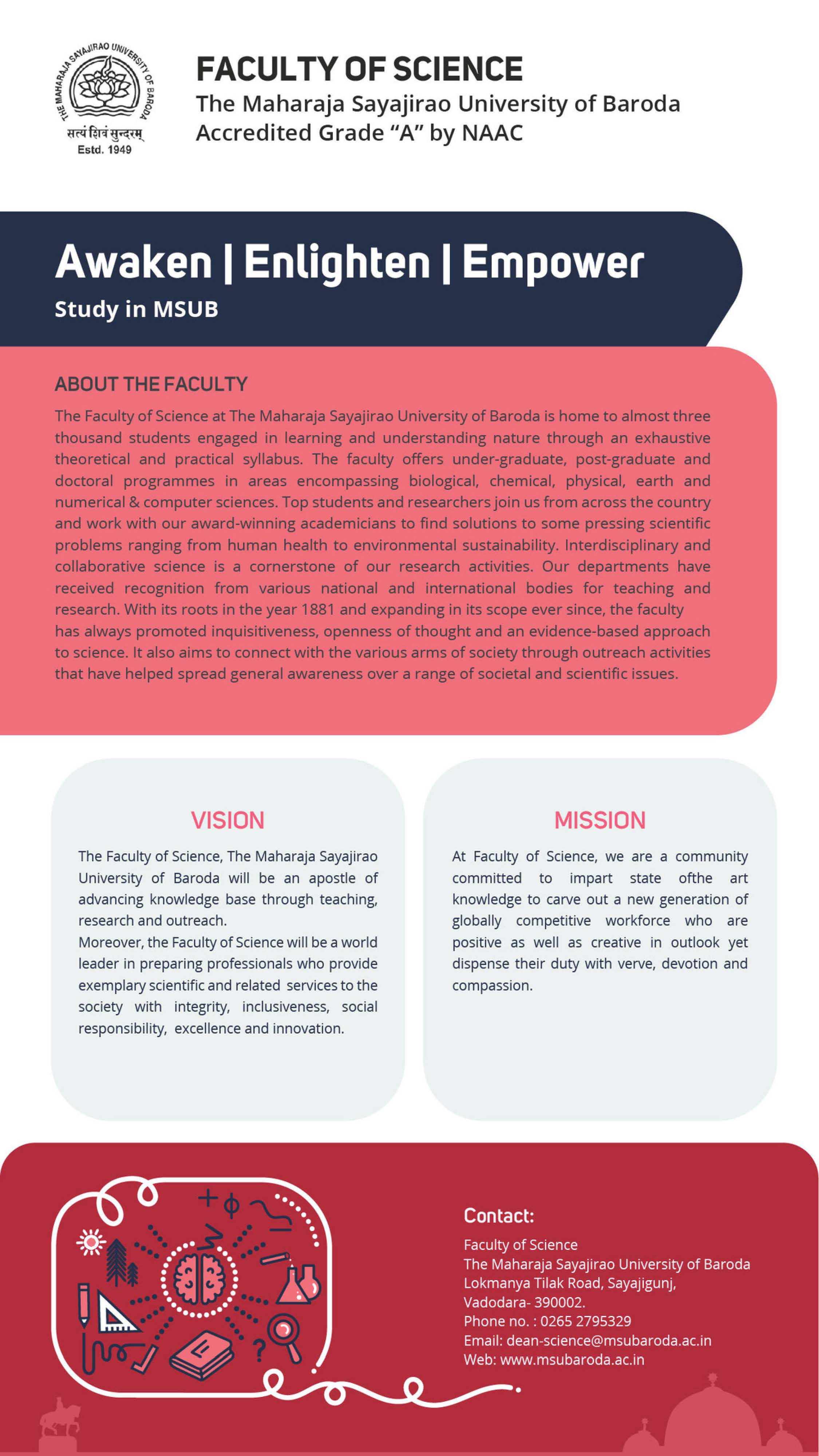 The Faculty of Science is a Constituent Institution of the Maharaja Sayajirao University of Baroda under the direct management and control of the University. The Old Baroda College which was founded in the year 1881 consisted of Arts and Science Sections. The Faculty of Science started its independent existence in March, 1951 with Dr. C.S. Patel as its First Dean.
The Old Building which houses the Faculty of Science at present was completed in about 1934 in the reign of Srimant Sayajirao III Gaekwad Baroda a far sighted Ruler and maker of modern Baroda. It is conspicuous by its small copper dome and is flanked on the west by the building of Faculty of Education and Psychology and on the east by the majestic building of the Old Baroda College, now the Faculty of Arts.
Faculty of Science comprises twelve departments covering almost all the branches in modern science. It offers B.Sc.(Hons.) and M.Sc. courses in most disciplines, M.Sc. (IT), BCA, and conducts research programmes in all areas. In addition, several value added and vocational courses have been introduced in recent years at both U.G. and PG levels. More than 90% of our undergraduate students continue their study at a M.Sc. level including that of other universities or other fields. Our students are expected to strive for knowledge in their field of specialty. They are encouraged to get more hands-on experience and apply it to research at universities, laboratories, and industries. A certain portion of undergraduate students join industries or government agencies right after graduation. Our students learn from expert teachers and benefit from a contemporary curriculum and hands-on opportunities, enabling their transition to impactful careers.
Science research is an activity of utmost importance in the Faculty of Science; Science is essentially the art of conversing with nature to understand its principles and laws. The understanding of these basic laws and principles leads to practical implementations that benefit the whole world. Our faculty members collaborate with national and international laboratories and enhance our academic excellence, diversity, and capabilities to build abetter future for everyone.
Almost, all departments are DRS, SAP and FIST recognized. Faculty of science has been awarded PURSE programme by Department of Science, Government of India which is solely a research output based programme. The faculty of Science keeps itself alive with regular academic activities like seminars, workshops, conferences. It is equipped with advanced and sophisticated laboratories. A large number of the teachers of the faculty have received distinctions and honors
Many departments of the faculty provide specialized services to society and nearby industries. Our dedicated, service-oriented staffs allow our Faculty community to flourish.