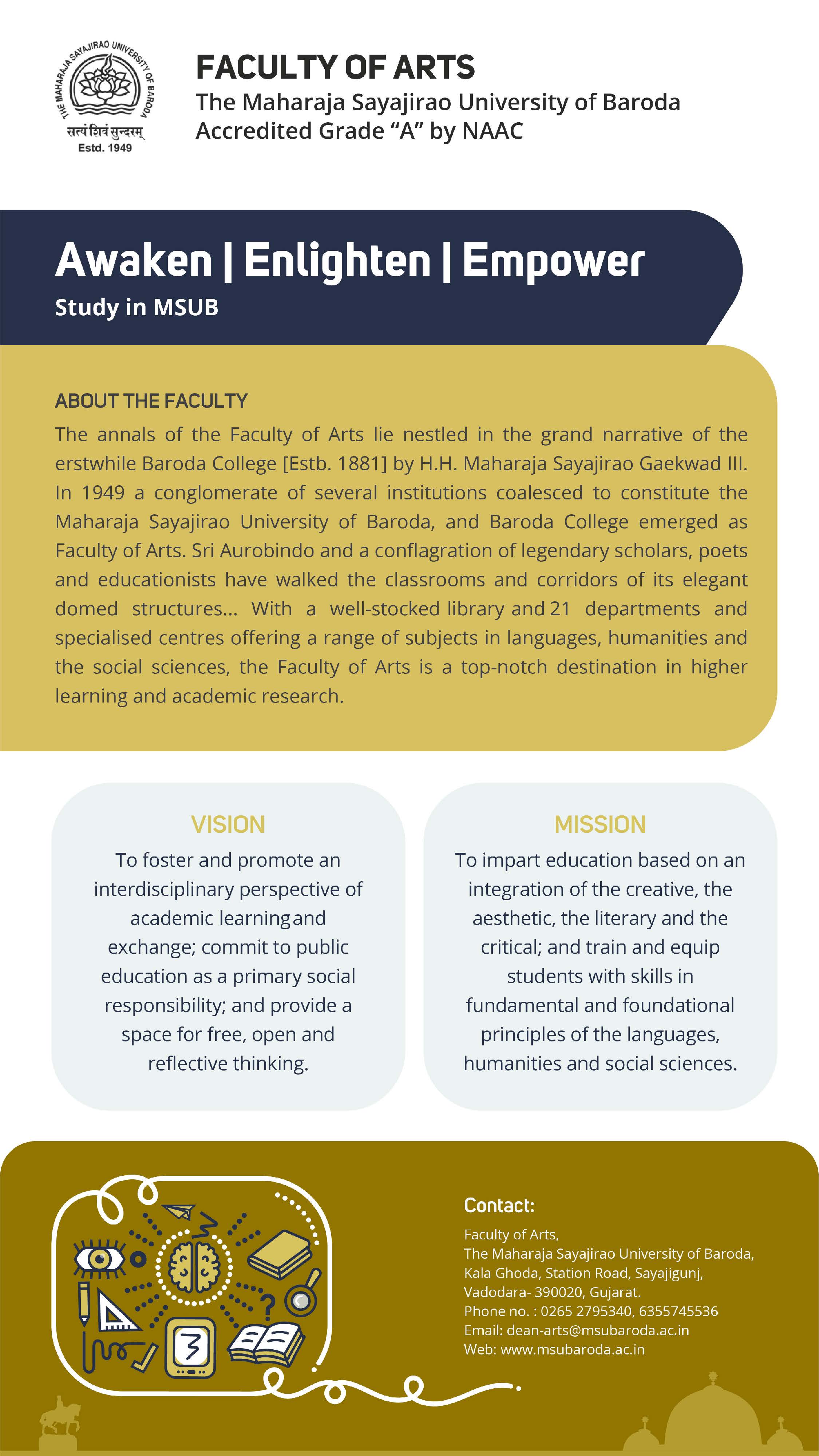 The annals of the Faculty of Arts lie nestled in the grand narrative of the erstwhile Baroda College [Established-1881] by H.H. Maharaja Sayajirao Gaekwad III. In 1949, a conglomerate of several institutions amalgamated to constitute The Maharaja Sayajirao University of Baroda, and Baroda College emerged as Faculty of Arts. At this juncture discipline of Humanities, Social Sciences, Sciences and Law remained fulcrum of the teaching-learning process. In this phase, teaching-learning was carried out for Bachelors level which got upgraded to Master's, M.Phil and Doctoral level.
Faculty of Arts, is popular due to presence of several luminaries, who contributed to its institutionalization as per international standards. Sri Aurobindo Ghosh, to begin with, and a conflagration of legendary scholars, poets and educationists [Acharya Vinoba Bhave, Shri Rang Avdhoot, Pujya Shri Mota, Shri K. M. Munshi, Shri Rajendra Shah, Shri Chimanbhai Patel, B.J. Sandesara, Suresh Joshi, Sitanshu Yashashchandra, I.G. Patel, S.R. Hashim, Bakul Dholakia, Rajni Kothari, Lord Bhikhu Parekh, A.P. Rana, Thomas Pantham, Kanti Bajpai, V.Y. Kantak, J. Birje Patil, A.K. Ramanujan, P.C. Kar, Rani Dharkar, G.N. Devy, B. Subba Rao, R.N. Mehta, K.T.M. Hegde, S.C. Malick, M. N. Srinivas, I. P. Desai, A.M. Shah, P.J. Panjanandikar, A.N. Jani, R.M. Nanavati, Uma S. Deshpande, G.B. Pandya, S.C. Misra, V.K. Chavda, G.D. Sharma, D.D. Mahulkar, A.G. Javadekar, M.H. Siddiqui – to name a few] have walked the classrooms and halls of its elegant domed structures and natural environs. The tradition once established is continued in the 21st century by the certificate, Diploma and Post-Diploma, Graduates, Post-Graduates and Ph.D. scholars who have kept the original campus flourishing. The intellectual fragrance has captivated the minds of national and international scholars to join and become a part of its teaching fraternity.
The tangible heritage has its wings spread to the D. N. Hall campus and Maharaja Pratapsinhrao Parisar which house several departments, centres and institutes. Intangible Heritage is reflected in several departmental libraries and archives which are a blend of traditional and contemporary technologies.
Faculty of Arts comprises of 21 departments, 07 specialized interdisciplinary centres and multidisciplinary institutes, Academy and Chair offering a range of subjects in languages, humanities and the social sciences. This Faculty is a top-notch destination in higher learning and academic research not only in Western India but is also appreciated in national and international galleria. In the longue durée, Faculty of Arts has witnessed a phenomenal growth and nurtured several generations. This is possible due to the vision of Sayajirao-III who was of the belief that "Cooperation is necessary to achieve any worthy end and this readiness to cooperate will not be found in people if they are not educated".
Today it aspires to become a stalwart in imparting higher education par excellence in the field of Humanities and Social Sciences through CHOICE BASED CREDIT SYSTEM popularly abbreviated as CBCS under NEP-2020 mentorship.
Vision Statement:
To foster and promote an interdisciplinary perspective of academic learning and exchange;
To commit to public education as a primary social responsibility;
To provide space for free, open and reflective thinking.
Mission Statement:
To impart education based on an integration of the creative, the aesthetic, the literary and the critical;
To train and equip students with skills in fundamental and foundational principles of the languages, humanities and social sciences.
Objectives:
To contribute in producing quality and employability;
To adopt mixed pedagogy technology driven approaches in teaching coupled with blended learning and interaction with learners, researchers and practitioners;
To generate knowledge database and its application, preservation and dissemination;
To impart hands on experience by adopting theory, field-work, training and internship programmes.
Institutional Strength:
Recognition: Faculty of Arts is recognized as a premier institution in Liberal Arts not only in western India but also worldwide.
Quality: Qualified, competent and committed Teaching and Non-Teaching Staff and Researchers.
Library: Well-equipped Departmental Libraries and Archives with infrastructure and E-resources.
Infrastructure: Green campus with tangible heritage spread across three locations (Main Building, D. N. Hall and Maharaja Pratapsinhrao Parisar) with adequate facilities like Seminar Halls, Classrooms with ICT facilities, Administrative Block, Boys and Girls Refreshment Centers, Common Rooms, etc.
Pedagogy: Eminent Guests, academicians visit the departments, centres and institutes to share their knowledge & help generate knowledge database.
Skill Development: Critical Thinking and craftsmanship in oral and written expression which is acquired through teaching-learning process and field-work. In selected cases internships are also offered.
Enrollment (100%): Diverse student fraternity in terms of Geographical locations, Language, Gender, Caste, Religion & Culture.
International Students: In last one year, Faculty of Arts has seen a distinct increase in enrollment of international students, thereby marking global presence.
Research: In last one year, it has seen an increase in enrollment of Ph.D. students too.
Foreign Language Expertise: Russian, French, German, Persian and Arabic