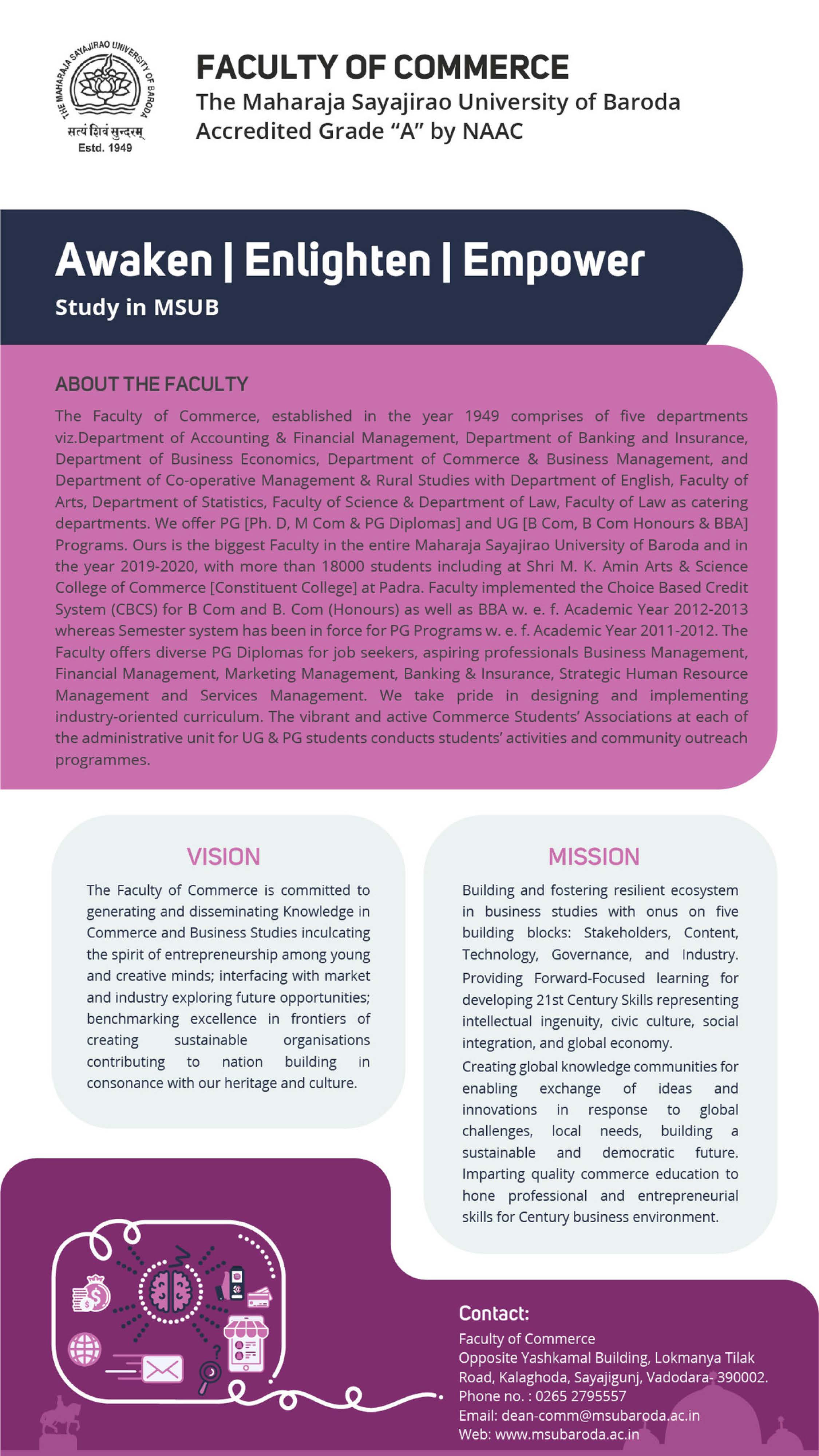 The Faculty of Commerce has been a premier institute of education in Business Studies since 1949 and it was the first of its kind in India. When it was established in 1942, it was known as the Maharaja Pratapsinh College of Commerce and Economics. The varied academic staff has the experience and qualifications to take up the challenges of education and research in Business Studies. The Faculty offers undergraduate, post-graduate, and doctoral programmes leading to B.Com., M.Com. and Ph.D. Degrees. The faculty also offers BBA and three Post Graduate Diplomas in Business Management, Busines Economics, Banking and Cooperative Management to cater to specialized needs of students. Over the years, the faculty has expanded, quantitatively as well as qualitatively, to meet with the ever-increasing educational needs of the cosmopolitan city of Vadodara. At present the Faculty has five departments viz.

(i) Department of Accounting and Financial Management,
(ii) Department of Banking and Insurance,
(iii) Department of Business Economics,
(iv) Department of Commerce and Business Management,
(v) Department of Cooperative Management and Rural Studies

The Faculty also receives the services of colleagues from the following departments of other Faculties :

(i) Department of English, Faculty of Arts
(ii) Department of Statistics, Faculty of Science
(iii) Department of Mathematics, Faculty of Science
(iv) Department of Law, Faculty of Law

The Faculty is making spirited efforts to streamline its administration and launch academic reforms. For imparting knowledge about operational aspects of business, experts from the field are invited as visiting Faculty as per needs of the course.

Serious and committed students can look forward to a challenging and productive educational experience in this faculty. We are determined to maintain the academic excellence that was once its hallmark and infuse new energy and vigour into all the academic programmes. To ensure success we expect discipline and regular attendance from the students.