Accreditation
Grade 'A+'
CGPA 3.43 [CYCLE-IV]

The Maharaja Sayajirao University of Baroda, a State University with English as its medium of instruction is a premier unitary Residential University, established on 30th April 1949 recognized by Government of India under the Indian Universities Act, 1958 and is accredited by National Assessment and Accreditation Council with "A+" Grade with CGPA of 3.43 in the year 2022. It has one main and 6 satellite campuses, spread over 275 acres of Land.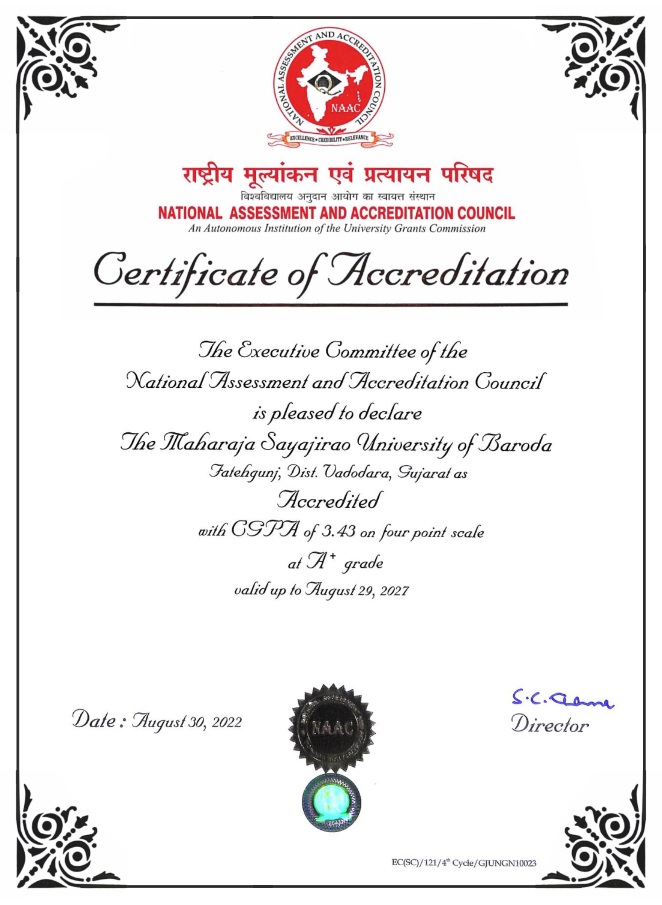 The Maharaja Sayajirao University of Baroda (MSUB) is recognized as one of the premier institutions of higher learning and research in the Country. Since its inception in 1949, the University has demonstrated a keen interest and a commitment to the sustenance and promotion of an environment, favorable to the growth and development of academic excellence – a commitment that forms a part of the rich legacy of the institution.
Educational institutions which preceded that Maharaja Sayajirao University of Baroda and which went on to forming a part of its foundational legacy, included the "Baroda College", one of the oldest centers of learning in Western India, founded in the year 1881 by His Highness Maharaja Sayajirao Gaekwad III. The enlightened ruler in the year 1909 establishing the "Kalabhavan". His Highness Maharaja Pratpsinhrao Gaekwad pursued the idea of establishing a University and on the recommendation of the committee, the Government of Baroda, in its order No. (R) 169-39 dated 21st February 1949 set up the University.