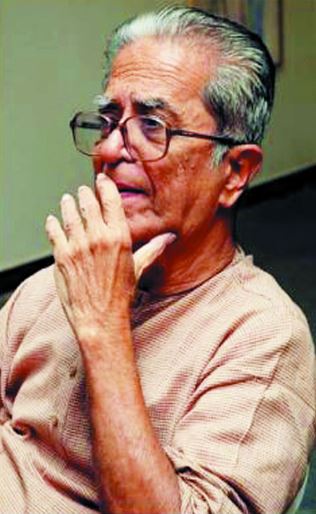 About Me:
Name:

Shri Haku Vajubhai Shah

Category:

Cinema and Arts

Award:

Padma Shri(1989), Nehru Fellowship Award(1971), Civic Award, Ahmedabad Municipal Corporation(1973), Kala Ratna, Gagan Avani Puraskar.

Area:

Indian Painter, Gandhian, Cultural Anthropologist and Author on Folk and Tribal Art and Culture.
Details:
Education: He Completed his Primary And Secondary School Education In Valod, Graduated In Fine Arts (BFA) From The Maharaja Sayajirao University Of Baroda In 1955, Master's Degree in Fine Arts (MFA) From The Same University.
Biography: Haku Vajubhai Shah was born on 26 March, 1934 In a Small Village Named Valod Of Gujarat. He Is a Renowned Figurative Artist from Baroda School. The Emotions of Folk and Tribal Art of India are Originated in His Skills. An Eminent Artist, A Cultural Anthropologist, Teacher, Gandhian, An Author Of International Repute On Folk And Tribal Art. Associated With The National Institute Of Design Right From Its Inception In The Early 1960's. He was Invited by Dr. Stella Kramrisch in 1967 to Curate The Seminal Exhibition, "Unknown India" Which Traveled to USA. He Established a Tribal Museum at Gujarat Vidyapeeth in Ahmedabad, Which was Set Up by Mahatma Gandhi.
He has Conducted Various Art and Design Workshops and Lectured Across The World. He Also Taught at School of Architecture, Ahmedabad For Several Years and was Regent Professor at The University California, Davis. He has Exhibited his Artworks in Major Cities of India and Across The World. Haku Shah Is Chairman and Founder Trustee of Bhooma, Lok Shilpa Sansthan.
He was Awarded `Kala-Gaurava' By Gujarat Lalit Kala Akademi For His Immense Contribution To Art.
He Has Also Been Associated With The Museum of Mankind, London; The Tropical Museum, Amsterdam; and The Mingi International Museum of World Folk Art in San Diego, California.